The International Energy Agency (IEA) welcomes Greece's progress in reducing carbon use and energy market reforms. The IEA's study examines the period from 2017 to date and rates our country positively.
According to the report, Greece has made significant progress in increasing the share of renewable energy in its energy mix, with solar and wind power accounting for more than 12% of electricity generation in 2020. The use of lignite has been significantly reduced in recent years and the decline has been offset mainly by an increase in production from natural gas, along with an increase in production from wind and solar photovoltaic (PV). As the IEA reports, the country's total emissions and emissions per kilowatt-hour produced have been drastically reduced over the years. Characteristically, emissions fell from 791.6 g/kWh to 342.4 g/kWh and was the fifth steepest reduction observed by the organisation.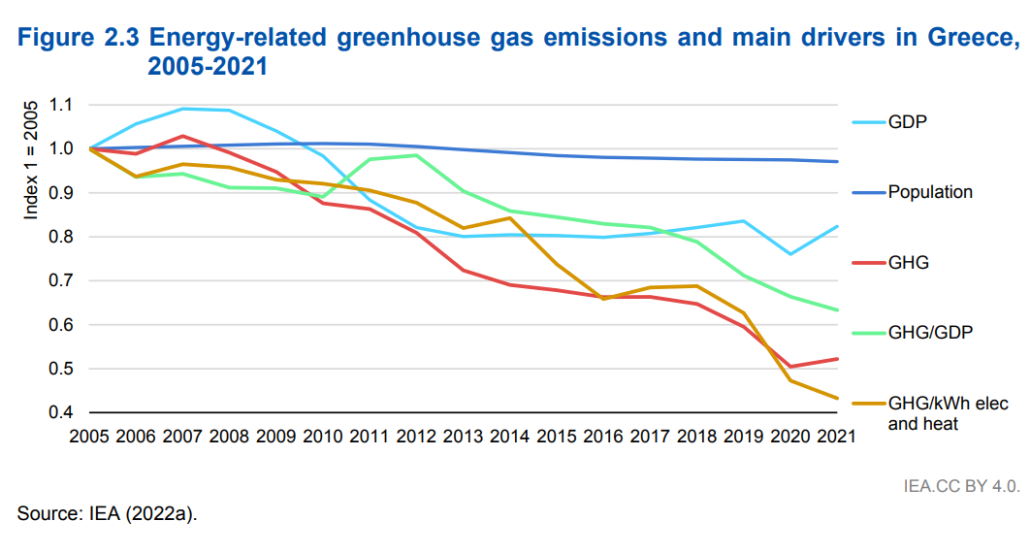 Recommendations:
However, there is still room for improvement and the IEA lists several recommendations for Greece to continue its progress towards a more sustainable and secure energy system.
A key recommendation for Greece is to speed up the permitting process for new renewable energy projects to facilitate a faster transition to a low-carbon energy system. In addition to renewables, however, the IEA report also recommends that natural gas infrastructure projects should be carried out, but only for security of supply reasons. Greece is still dependent on the use of natural gas, which may create vulnerabilities in the energy system. Therefore, the IEA recommends that Greece should limit gas projects to what is strictly necessary.
In addition, the organisation suggests focusing building renovation programmes on renovations that combine thermal insulation with heat pumps to maximise energy savings and reduce bills. At the same time it considers it important to promote the replacement of old vehicles, particularly freight trucks, by providing incentives, including a scrappage scheme to exchange old vehicles for more efficient ones.